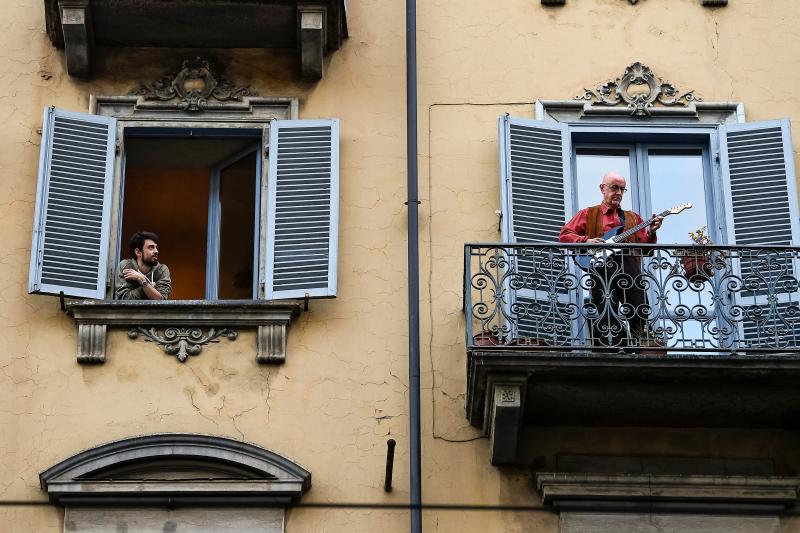 The global coronavirus pandemic is escalating so rapidly that an observation made in the morning is likely to out of date by the afternoon. I don't think it's an exaggeration to say, however, that the material conditions of artists and arts workers nationally, and globally, are being destroyed by this pandemic. An industry that relies on people being able to gather is wholly vulnerable in a time when no one can gather. And yet people find a way: one of the few gladdening stories to emerge in recent days has been the knowledge that quarantined Italians are singing and playing music to each other from their balconies.
We gather even without being able to gather. Such feats of solidarity and creativity are essential during this crisis.
What does singing matter when so much is at stake? Who cares about art when people are dying? Art matters because it is one of the most ancient ways we have of forming community: telling stories, singing songs, and making sound and images, are acts that bond us together as human beings. More than this, these acts can teach us something about our place in a complex and fragile ecosystem, a web of life. In an essay for [The Monthly] last year, which detailed the long-term damage done to Australian arts by decades of funding cuts and political neglect, Alison Croggon wrote: "It feels fatuous to talk about Australian art and culture amid such overwhelming global crises – and yet it also feels impossible not to note this context." That observation is just as applicable now.
From Monday, March 16, "non-essential" outdoor gatherings of more than 500 people were temporarily banned by the federal government, and the list of cancelled arts events and festivals in Australia is growing rapidly. Sydney's annual Vivid Festival, scheduled for May, was cancelled last Sunday. Byron Bay's Bluesfest is cancelled for the first time in 30 years. Sydney Writers' Festival, scheduled for late April, was cancelled, after having only announced its full program last week. Arts venues in Victoria, including the National Gallery of Victoria and the Arts Centre Melbourne, have closed their doors. The Melbourne Comedy Festival is cancelled, and the Melbourne Theatre Company has cancelled all remaining performances of its current productions, as has the Sydney Theatre Company. Sydney Film Festival, scheduled for mid-June, was cancelled on Wednesday. Now that the ban has been extended to indoor gatherings of 100 people or more – as it needs to be, if we are to avoid the scale of public health disaster that has been taking place in Italy – that list of cancellations will only get longer. All but the smallest of arts companies will be prevented from public performance and exhibition under these rules, and even the smallest, as our public health emergency deepens, are cancelling their schedules, out of caution and social responsibility.
Hundreds of thousands of arts workers are going to lose, or have already lost, sources of income because of all this: actors, musicians, writers, comedians, visual artists, programmers, producers, event managers, copywriters, box-office staff, front-of-house staff, technicians, road crew, arts critics and arts journalists, and more. Not to mention those workers employed by hospitality and tourism businesses that rely on venue contracts, or festival visitors, to stay solvent.
The cancellations mentioned above are just the big-ticket, big city events and organisations. Along with them are ranged all the medium to small arts companies – particularly regional arts companies – and individual workers, who are already operating in conditions of precarity, pushed there by long-term funding cuts and widespread casual labour, both within the arts industry and outside of it. The website I Lost My Gig, where arts workers can self-report cancelled employment due to COVID-19, had, by Tuesday, already tallied $100 million dollars of lost income, and counted 380,000 affected workers. The gig economy now so prevalent across different employment sectors, from food delivery to tech, has been the default arts employment mode for a long time, but when there is so little funding available to bolster artists' wages or production costs, and when the industries that arts workers often turn to for a secondary or even primary income – low-paid industries like hospitality and retail, or tutoring – are also based on casual and contract labour, there is no financial buffer for people to rely on when the shock of a crisis looms. Australian arts has been in crisis for years, so what do you call a crisis on top of a crisis? A catastrophe?
Even in the best circumstances, the COVID-19 pandemic would have done enormous damage to Australian arts, but these are far from the best circumstances. As Croggon detailed in her essay last year, part of the long-term problem with Australian arts has been its two-tiered funding model, by which major companies receive the lion's share of Australia Council funding, while the scraps are left to small organisations and individual artists. Many receive no funding whatsoever. I want to stress that this is not the fault of the Australia Council, which after all must take direction from federal government. And governments both Coalition and Labor have shown a historic tendency to fiddle with the Council's make-up, its funding models, and the money available to it, as in 2015, when the then federal arts minister, George Brandis, under the prime ministership of Tony Abbott, took $104 million from the Australia Council's budget to divert into a new ministerial arts fund, Catalyst, while ring-fencing some major arts companies from the Australia Council's consequent funding cuts. The Catalyst fund, in turn, was axed in 2017, but the money taken has never been returned to the federal arts budget.
Again, it's not the fault of major arts companies that the arts sector in Australia is so inequitably funded. Every arts company, large or small, is vulnerable in this crisis. But when small organisations and individual artists have no monies whatsoever to spare, the result is likely to be permanent wipe-out for them, in a sector that has already felt the damage – especially the cultural damage – of an economic landscape in which sustaining a long-term arts practice at a small scale, or on a not-for-profit basis, is already close to impossible. My fear is that a federal arts stimulus package – should there even be one – will reinforce this unevenness of funding. And funding matters so much in the Australian context in part because we have nothing like the scale of private philanthropy that bolsters arts organisations in, say, the United States. Now is the time, more than ever, for all arts organisations and arts workers to argue for a significant, widespread and equitably distributed stimulus package.
The virtual roundtable convened by the federal government on Tuesday, and hosted by Arts Minister Paul Fletcher, "provided", in the bloodless words of the minister's press release, "an opportunity for Minister Fletcher to hear directly from the arts organisations on the ways they are responding to the challenges they are facing as a result of COVID-19, as well as their suggestions for support measures". But no support measures specific to the arts have actually been announced. Instead, the minister referred back to the assistance measures outlined in last week's general stimulus package, through which small to medium businesses can apply for up to $25,000 to cover the cost of employee's wages. This will do nothing to assist casual employees or contract workers in the arts, and $25,000 will hardly be sufficient to make up for the cash-flow shortfall to small arts companies, whose entire operating budgets are now in jeopardy. Nor should writers be forgotten here, though they are often left out of such discussions because their work is done alone, as if this magically protects them from the labour conditions that affect the arts industry as a whole. There are plenty of writers now wondering if their scheduled books will be published, their newly published books bought, their teaching gigs scrapped, and so on. The cancellation of writers' festivals, book launches and book tours will have a deleterious effect on authors, who depend on the publicity generated by these events to boost their sales.
In an article for The Conversation on Tuesday, arts writer and Monash University lecturer Ben Eltham outlined some ideas for how an arts stimulus might be put into effect, including by making payments to artist sole traders through the Australian Tax Office. This is the crux of the matter: money needs to go directly to arts workers themselves. It's no solution if the federal government's best suggestion, as it has been so far, is to direct all affected casual workers – in the arts sector or otherwise – to Centrelink, there to await the slow administration of a manifestly inadequate unemployment allowance, or a short-term sickness benefit. Forgive me if I have little faith in the Morrison government's willingness to help arts workers to any degree, when the same government, in December, abolished the federal arts ministry.
In a situation where the global spread of COVID-19 underlines, once again, that an economic system based entirely on profit-making and commodity production will quickly spiral into crisis when things cannot be bought and sold, art matters precisely because the value it creates is never wholly measurable in terms of profit. Art matters now because it demonstrates, as it always has, that there are ways of being in the world, and things we can make in the world, that might be an alternative to commodity production. Meanwhile, we live inside of capitalism – this enormous global commodity system, its parts intermeshed – which means that arts workers, along with everyone else, have got to sell something to survive: their labour or art, or both. And all of a sudden there is precious little to sell. May this crisis make us think more deeply, more urgently, about the need to organise together; about the fact that when workers, including arts workers, bear all the risk in a labour market, we are all acutely vulnerable when the risks multiply. This vulnerability is not inevitable, just the way things are; it is the result of politics. I think again of Bertolt Brecht, and the motto he appended to a section of his Svendborg Poems cycle, in 1939:
In the dark times
Will there also be singing?
Yes, there will also be singing.
About the dark times.
Reposted from The Monthly.
Image from Italy Magazine.
℘℘℘℘
Anwen Crawford is The Monthly's music critic.